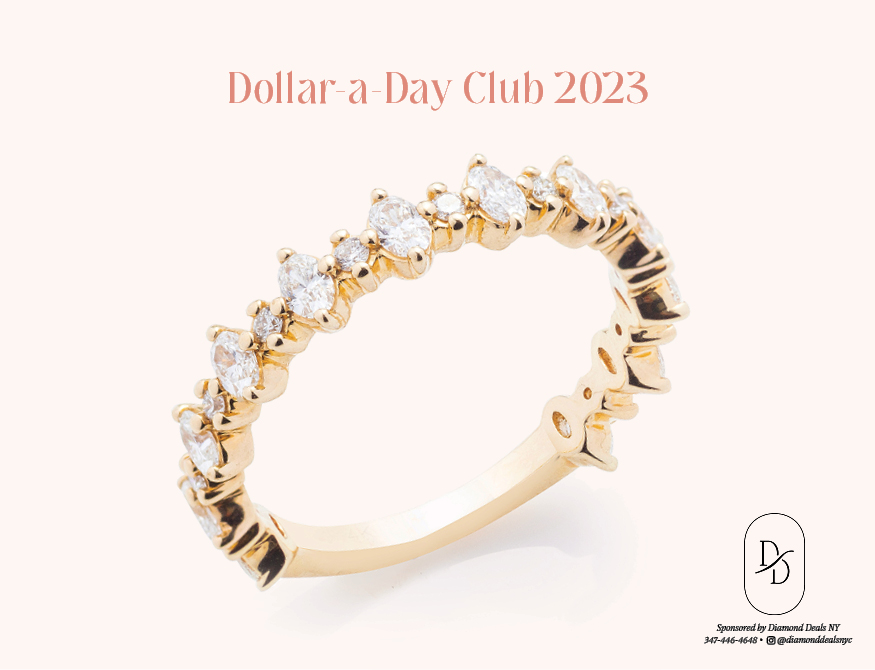 Dollar-a-Day Club
Win an exquisite diamond ring while helping a kallah prepare for her wedding day!
To thank you for becoming a treasured member of Ten Yad's "Dollar-a-Day" Club, we are offering an exclusive raffle for Club members only. You will automatically be entered in the raffle if you pledge a Dollar-a-Day to Ten Yad for the year 2024.

This offer applies to current and new members. Sign up by mail, phone, or at the auction. Billing cycle begins January 15, 2024.
Ring valued at $3,500. Total Wt: 1.75 ct.
---
Ten Yad wishes to acknowledge all those who pledged a dollar a day last year for an entire year in order to support our activities and participate in the mitzvah of hachnosas kallah.
R A
Jocheved Addess
Allison and Elliot Adler
Chaim Anatian
Mushka Andruisier
M. B.
Chanie B.
Chanie Baitelman
Nechama Baras
Yochanon Belaich
Smadi Benabou
Mendy Benjaminson
Yanky Bennish
Yoel Bernstein
Eli & Sara Blackman
Shandel Malka Blasberg
Boruch Sholom Blesovsky
Faygy Blotner
Elozor Bogomilsky
Shmuly Borenstein
Mushkie Bronstein
Frumie Bronstein
Yoni Chanowitz
Chanie Chayo
Sheina Chayo
Pinchus Chein
Chana Chriqui
Elisheva Cohen
Moshe Cohen
Mendy Cohen
Dovid Cohen
Chana Cunin
Zisi Cunin
Sarah Cunin
Zalman Moshe D.
Randy Defillip
Miriam Defillip
Mirel Deitsch
Satz-Schirmer Diane
Nechama Diskin
Laykie Donin
Mendy Dubrawsky
Deborah Duchman
Zevi E.
Yitzchok Einhorn
Brocha Eisenbach
Rochel Elazary
Tova Engel
Terry Esses
Mendel Ezagui
Itai Eben Ezra
Esther Fass
Eli Felberman
Shloime Feldman
Mordy Finck
Aaron Fischman
Laivi Freundlich
Mendy & Talia Friedman
P. G.
Zev Gajer
Levi Gajer
Chana Garelik
Shlomo Geisinsky
Diana Genovesi
Wendy Glantz
Menachem Goldberg
Dovid Goldberg
Dini Goldberg
Shmuly and Tzirl Goldman
Marina Goldman
Shmulie Goldman
Chana Goldschmidt
Nochum & Miriam
Goldshmid
Karen Goldstein
Betzalel Gopin
Mendy Gopin
Esther Gordon
Yisroel Graimberg
Evelyn Green
Baila Greenbaum
Zushe Greisman
Rivka Grossbaum
Stephen and Rochelle
Gruenebaum
Shterna Gurkow
Raizel Gutnick
Michoel Guzelgul
H. H.
Levi Habosha
Devora Hackner
Chaya Hanoka
Dovid Hassan
Baruch Hayman
Meir Hecht
Mendel Hecht
Devorah Hershkop
Dovid Hershkowitz
Yehuda Herz
Akiva Herzog
Mendy Holtzberg
Esther Horowitz
Chana Huebner
Nosson Huebner
Zalman Hurwitz
Akiva Isenberg
Chaya Israily
Goldie Itkin
Mendy Ivry
C J
Menachem Jacobs
Shaindy Jacobson
Mordechai Jacobson
Binyamin Jervis
Aaron Junik
Miriam Kagan
Chana Raizel Kagan
Shuli Kahan
Leibel Kahanov
Meir Kahanov
Meir Kalmenson
Rochel Kaltman
Alta Kaminetzky
Osher Karnowsky
Bassie Karp
Rochel Karp
Shmuli Karp
Dovid Katz
Leib Katz
Chavie Katzman
Shulamit Kaye
Shmuel Kazen
Boruch Kerzer
Pinchus Kievman
Chesky Klein
Miri Klein
Aryeh Koenig
Deena Kopp
Rachel Kornfeld
Shaindel Malka Kosofsky
Nechama Kram
Mendel Krasjanski
Mushka Krasnjanski
Yossi Krasnjanski
Mendy Krinsky
Zevi Kugel
C L
Reuvan Lakein
Yaakov Lang
Yossi Lebovic
Nechama Lederman
Rosa Lehrer
Goldie Lerman
Miriam Lerner
Eli Lever
Chaim Levilev
Sara Levin
Rochel Levin
Sara Levitansky
Mendy Levitin
Chanania Levy
Shmuly Levy
Chaya Liberow
Sari Lieberman
Devorah Leah Light
Yisroel Schulman and
Sandra Lilenthal
Leah Lipsker
Miriam Litzman
Mordechai Litzman
Shternie Litzman
Devorah Loschak
Boruch Losh
Chaya Majesky
Ms Kimy Mandil
Yossi Margolin
Alexander Markovits
Getzy Markowitz
Leibi Marsow
Yehudi Meshchaninov
Tzadok Leib Messing
Yonatan Mizrachi
M. Morosow
Oiring Morris
Yitzy Morris
M. N.
D. N.
Chana Goldy Naparstek
Choula Nash
Zalman Negin
Chana Nelken
Malky Nemanov
Chana Nesenoff
Bunia Newman
Moshe Nisnevitz
Dassie Okunov
Chana Perelman
Yaakov Perlman
Brown Perri
Tamar Pewzner
Yisroel Piekarski
Dasi Pinczower
Malka Pinson
Shoshana Plotkin
Avraham Polinger
Shimon Polter
Chanie Posner
Chaya Posner
Eli Posner
Shaindy R.
Y. Rabin
T Raichik
Simi Raichik
Sara Raichik
Bassie Raitman
Yossi Raitport
Esther Rapoport
Chanie Rapoport
Shterna Rappaport
Cyrelle Rapps
Yossi Raskin
Brochie Reinitz
Sruli Richler
Feige Rimler
Pinchus Riven
Bluma Rivkin
Tsipora Rivkin
Raizel Rodal
Leizer Rodal
Zjama Rogatsky
David Roitblat
Eli Rosenfeld
Shmuly and Chani
Rothman
Leah-Perl S
D S
B. S.
Yisroel S.
Rochel Leah S.
Mushkie Sandhaus
Moishy Sandhaus
Chaim Sasonkin
Shmuly Schapiro
Leah Schechter
Shoshana Schenk
Channy Schmerling
Rivkah Schmukler
Batsheva Schochet
Aaron Schwartz
Mendel Serebryanski
hannah Shagalow
Sossie Shain
Shmuel Shmueli
Yisroel Shmueli
Shmuly Shubov
Shmuli Shuchat
Raizel Shurpin
Yossi Shusterman
Shoshana Siff
Chanie Silman
Yossi Simpson
Shmuel Simpson
Naftaly Sirota
Adina Sitorsky
Zalman Skoblo
Yitzy Smith
Chaya Sorkin
Chana Raizel Sossonko
Hillel Sperlin
Rochel Spritzer
Nechama Stauber
Penina Stein
Avraham Stein
Nosson Sternberg
Cigal Stevens
Chany Stolik
Rivka Stolik
Shaya Tenenbaum
Zalman Tevel
Shmuel Tewel
Dovid Tilson
Moshe Vail
Chanah Vaisfiche
Tzali Veshedsky
Fulie Vishedsky
Pinny Vishedsky
Mendel Vogel
Dovid Walker
Moishe Wechsler
Chaya Weingarten
B & C Weingarten
Boruch Weingarten
Avi Weinstein
Sholly Weiser
Morde Werde
Asher Werner
Shea Werner
Rachel and Effy White
Yossi Wiener
Faigy Wilschanski
Menachem & Bracha
Wilschanski
Moishe Wilschanski
Moishe Winner
Zacki Witkes
Yosef Wolf
Shmuly & Brochi Wolff
Berri Wolosow
Shterna Wolowik
Shmuel Wolvovsky
Rivka Yarmak
Mendy Yarmove
Yitzchok Yarmush
Chana Yemini
Y. Z.
Mendy Zakon
Shloimo & Chaya Zirkind
Levi Zirkind
Shternma Zirkind
Eliyahu Zukierman
Shayna Zulauf-Baron
Shternie Zwiebel
Join Now