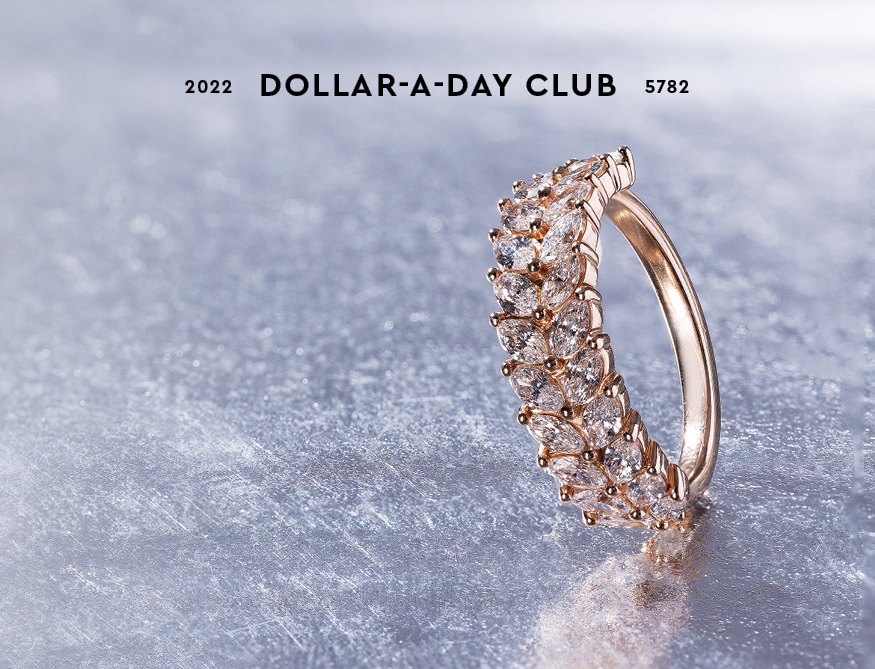 Dollar-a-Day Club
Win an exquisite diamond ring while helping a kallah prepare for her wedding day!
To thank you for becoming a treasured member of Ten Yad's "Dollar-a-Day" Club, we are offering an exclusive raffle for Club members only. You will automatically be entered in the raffle if you pledge a Dollar-a-Day to Ten Yad for the year 5782.

This offer applies to current and new members. Sign up by mail, phone, or at the auction. Billing cycle begins January 15, 2022.
Valued at $4,500. Total wt: 1.5 ct.
Available in white or yellow gold.
---
Ten Yad wishes to acknowledge all those who pledged a dollar a day last year for an entire year in order to support our activities and participate in the mitzvah of hachnosas kallah.
Sara Abraham
Sari Altmark
Chaim Anatian
M. B.
Chanie B.
Nechama Baras
Yochanon Belaich
Smadi Benabou
Rykal Bendet
Yanky Bennish
Moshe Berkowitz
Yoel Bernstein
Chaya Bistritzky
Eli & Sara Blachman
Shmuly Borenstein
Frumie Bronstein
Rabbi Bronstein
M. C.
Moshe & Perle Caplan
Aaron Cattan
Heather Chambers
Chanie Chanin
Yoni Chanowitz
Pinchus Chein
Shalom Cheruff
Rachel Chirtrik
Hadar Cohen
Rivka Cohen
Moshe Cohen
Mendy Cohen
Zisi Cunin
Rochel D.
Zalmen Moshe D.
Eliyohu Davis
Randy Defilipp
Miriam Defillip
Mendel Deitsch
Nechama Diskin
Laykie Donin
Mendy Dubrawsky
Chana Ehrenreich
Chaya Eidelman
Brocha Eisenbach
Esther Fass
Rivka Feldman
Rivkah Feldman
Aaron Fischman
S. Fogel
Menachem & Yocheved Freeman
Laivi Freundlich
Daniel Freundlich 
Ruchy Friedman
Tzivia Friedman
Mendy Friedman
E. G.
P. G. 
Zev Gajer
Levi Gajer
Esther Gansburg
Chana Garelik
Yossi Gershowitz 
Yaakov and Leah Goldberg
Yossi Goldberg
Nochum & Miriam Goldshmid
Betzalel Gopin
Mendy Gopin
Sari Gottlieb
Chaya Grossman
Michoel Guzelgul
H. H.
Levi Habosha
Devora Hackner
Dovid Harrison
Dovid Hassan
Baruch Hayman
Yosef Hazan
Meir Hecht
Mendel Hecht
Bracha Hershkovich
Dovid Hershkowitz
Shain Hiller
Mendy Holtzberg
Shaindy Holtzberg
Chana Huebner
Nosson Huebner
Chaya Hurwitz
Mordecai Hyans
Chaya Israily 
Goldie Itkin 
Mendy Ivry
Menachem Jacobs
Mordechai Jacobson
R. K.
Miriam Kagan
Leibel Kahanov
Meir Kalmenson 
Adina Kamelhar
Osher Karnowsky 
Shterna Karp
Dovid Katz
Leib Katz 
Menachem Katzman
Shmuel Kazen
Arie Khazanovich
Pinchus Kievman
Devorah Klein
Miri Klein
Shmuel Koenig
Yitz & Chaya Rochel Kolodny
Rochel Komar
Deena Kopp
L. & D.L. Kosofsky
Nechama Kram 
Menachem Krasnjanski
Mushka Krasnjanski
Yossi Krasnjanski
Chaya Krinksy
Mendy Krinsky
Devorah Kroll
Zevi Kugel
Chana Kupfer
Reuvan Lakein
Yaakov Lang 
Chana Larys
Nechama Lederman
Rosa Lehrer
Kreina Lepkivker
Ceita Lepkivker
Goldie Lerman
Miriam Lerner
Eli Lever
Sarah Levin
Achinoam Levin
Mendy Levitin
Shmuly Levy
Chanania Levy
Rivky Lew
Devorah Leah Light
Gila Litvin
Miriam Litzman
Mordechai Litzman
Shternie Litzman
Boruch Losh
Dovber Lulu
Kimy Mandil
Salomon Marcovich
Eli Marcus
Yossi Margolin
Alexander Markovits
Getzy Markowitz
Leibi Marsow
Joseph Matyas
Rietzy Melnicke
Yehudi Meshchaninov 
Tzadok Leib Messing
Yonatan Mizrachi
M. N.
D. N.
Bracha Naparstek
Choula Nash 
Zalman Negin
Chana Nelken
Chana Nesenoff  
Moshe Nisnevitz
Mendel and Leah Notik
Yaakov Perlman
Mendel Perlstein
Dasi Pinczower
Dan Pines
Chanie Plotke
Avraham Polinger
Gitty Posner
Chanie Posner
Joseph Posner
Eli Posner
A. R.
S. R.
Rivka Raichik
Sara Raichik
Simi Raichik  
Musia Raitman
Yossi Raitport  
Shterna Rappaport 
Yossi Raskin
Osher Rechester 
Feige Rimler
Zjama Rogatsky 
Eli Rosenfeld
Shmuly Rubashkin
Getzy Rubashkin
Moshe Rudd
Leah S
Y. S.
Rochel Leah S.
B. S. 
Mushkie Sandhaus
Chaim Sasonkin
Moshe Schapiro
Shmuly Schapiro 
Leah Schechter
Shomie Schechter  
Betzalel Scheinfeld
Aliza Scheinfeld
Chaim Schild
Channy Schmerling
Esther Schneerson
Batsheva Schochet
Sara Schtoks
Yisroel Schulman
Mendel Serebryanski 
Yossi Shain
Racheli Shatnani
Leah Pearl Shollar
Shmuly Shubov
Shmuli Shuchat 
Yossi Shusterman
Shoshana M. Siff
Tzemach Simon
Shmuel Simpson
Zalman Skoblo
Chaya Slonim
Zalmy Smetana
Yitzy Smith
R. Speilman
Miriam Sputz
Esther Sternberg
Nosson Sternberg
Shloime Stock
Miryam Swerdlov
Shaya Tenenbaum
Itche Tevel
Zalman Tevel 
Dovid Tilson
Aaron and Sara Traurig
Aaron Tzivin
Moshe Vail
Sara Varon
Pinny Vishedsky
Fulie Vishedsky
Dovid Walker
Yonason Waller
Katriel Warlow-Shill 
Moishe Wechsler
B. & C. Weigarten
Raizy Weinfeld
Yossi Weingarten
Avi Weinstein
Sholly Weiser
Devorah Weisfish
Ashira Weiss
Elizabeth Weissman
Mordy Werde
Yehuda Werner
Shea Werner
Yossi Wiener
Chaim Dovid Wilhelm
Menachem & Bracha Wilschanski
Chana Winner
Moishe Winner
Zacki Witkes 
Yosef Wolf
Shmuly & Brochi Wolff
R. Y.
Chana Yager
Mendy Yarmove 
Rochel Yemini
Chana Yemini  
Mushka Z.
Y. Z.
Esther Zerhib
Levi Zirkind
Anon.

Join Now