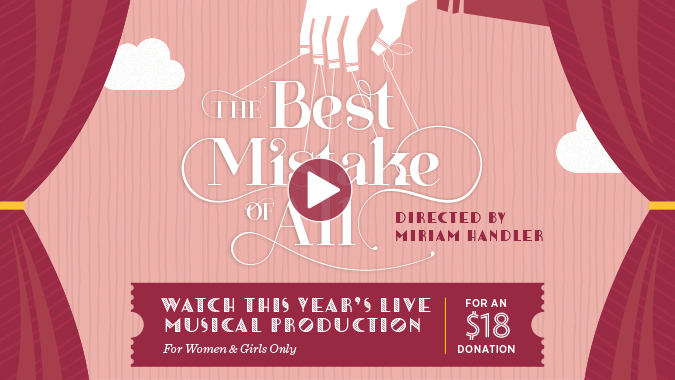 Watch a preview
THE BEST MISTAKE OF ALL
An All-New Musical Production Directed by Miriam Handler,
director of the original Nshei Tzedakah Players, and last year's Ten Yad comedy hit The Mechutanim
The Best Mistake of All reminds us once again
that everything - yes everything - is always for the good.
The Best Mistake of All could more aptly be called A "Mistake" Made on Purpose in Heaven, but then we'd be giving away a little too much of this exquisitely heart-warming story. In this all-new musical/comedy production, written exclusively for Ten Yad and directed by Miriam Handler, the all-star cast will thrill you with their range of theatrical talent, evoking tears of both sadness and joy in this enormously entertaining and unexpectedly inspirational tale.
Miriam Handler
The creator of the Nshei Tzedakah Players in 1981, Miriam Handler assembled a talented troupe of gifted women performers, giving them the opportunity to share their talents and uplift the spirits of female audiences around the country, while raising great sums of money for tzedakah for a wide range of vital organizations. After many years of directing high school and camp plays, Miriam returned to the realm of upscale women's productions, directing Barons and Bankers; The Song of the Hills, English to the T, and last year's enormously successful That's My Nanny! for the benefit of Rochel's Place. These sold-out, live musical extravaganzas enjoyed enormous popularity, and have seen tremendous sales on DVD. Aside from the theatrical world, Miriam currently works as a freelance writer specializing in customized poems, songs and video productions.
Leah Forster
Hilarious and versatile, Leah Forster is, quite simply, very funny. Her riotous character roles and her ability to poke fun at some of the ridiculous things we do in our lives, make her a sought-after performer all over the country. Leah's DVDs are well-loved: particularly Yentatainment, Balabusted, Let's Get 'Leah'biddig! Leah Forster in the Tirtzah Series, and her newest laugh riot, The Multimasker.
Chanala Fleisher
This super-talented, Brooklyn-born 21 year old started her vocal training at the age of 14 and began teaching voice at 15. She is currently working as a voice instructor at Malky Giniger's Ratzon Music Program and is an assistant video editor at Vision & Hart Films. Having blossomed into an absolutely enchhanting stage performer, Chanala has performed in several Nshei Tzedakah performances in the past and is excited to join the Ten Yad production this year.